Can You Help Us Raise the Curtain?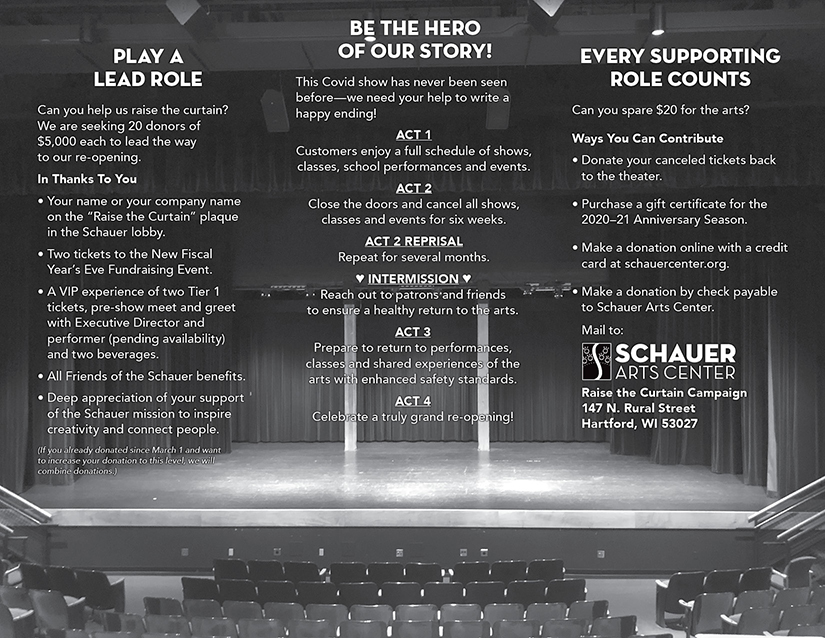 As we all know, this new "Corona" show has never been done before, so there is no script to follow. We are creating it as we go and need your help to write a HAPPY ending. We need our community's help. Be the hero of our story!
Please consider donating to the Schauer Arts Center during this time of global crisis. Consider playing a lead role—we are seeking 20 donors of $5,000 each to lead the way to our re-opening. We know also that every supporting role counts as well! Even a $20 donation will help us cover basic expenses like rent, utilities, phones, technology, insurance, payroll and benefits while the theater is dark.
The Schauer Arts Center was built by and for this community. Today the Schauer Center faces serious challenges and we hope you will help us with your generous tax-deductible donations. When the time comes that we can raise the curtain again, we want to ensure the same quality entertainment, safe environment and friendly staff that you have come to expect at the Schauer Center.
We exist for you but can only survive with your support*. THANK YOU!
*Under the new Corona Virus stimulus bill, taxpayers will be able to claim up to $300 in cash contributions to charity as a deduction without itemizing. And as always, taxpayers age 70 ½ (age 72 if you were born in 1950 or later) and over may donate up to $100,000 each year from their IRA to charity. This donation can include the RMD amount. Donating the RMD money (or more) to charity keeps it out of your taxable adjusted gross income. Giving money from your IRA to charity is called a Qualified Charitable Donation, or QCD.
Donate Now View Friends Benefits
Donate by Mail
Make your check payable to "Schauer Center" and mail to:
147 N. Rural Street
Hartford, WI 53027
Donate by Phone
For questions about making a gift, please contact Julie Johnson, Development Coordinator at 262-670-0560 x218, or Julie@SchauerCenter.org
Other Ways to Help
Become a Volunteer! The Schauer Center has many different opportunities to put your skills to use.

The Schauer Arts & Activities Center is an accredited 501 (c)(3) not-for-profit center for the arts.