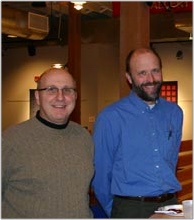 The Schauer Arts Center is governed by a Board of Trustees whose membership represents a broad cross section of the community. Members are recruited from businesses, civic groups, educational institutions, local government, religious institutions, the news media, the artistic community, and the general public.
Besides striving to develop and promote the arts at the regional level, the Board of Trustees has a desire to increase the interest of the region in the arts, to assist all who wish to make an artistic contribution, and to bring the artist and the region at large together in a mutually beneficial relationship. Developing these objectives is an exciting and personally rewarding experience for all involved.
Current Board Members
Gretchen Vickney (President), Vickney & Associates CPA, S.C.
Elizabeth Westfield (Vice President), Retired
Jerry Becker (Treasurer), Attorney at Law
Carol Kuepper (Secretary), Horsch & Miller
Ron Gritt (Member at Large), Retired Pediatrician
Andy Gonring, Washington County Circuit Court

Alpin Hong, Classical Pianist

Beth Kuehl, The Great Plate

Greg Ledesma, Berndt-Ledesma Funeral Home

Ryan Meisel, Erin School

Rick Ninmann, Broan-NuTone, LLC

Paul Price, UW-Washington County

Andrew Rux, Edward Jones

David Schlotthauer, Douglas Jewelers

Nate Schlotthauer, First National Bank

Sara Snyder, Snyder Law Firm

Mary Traut, West Bend Mutual Insurance

Jay Triick, Country Veterinary Clinic

Sue Wendt, Whitetails Unlimited

Peter Wilk, Grand Avenue Dental Care